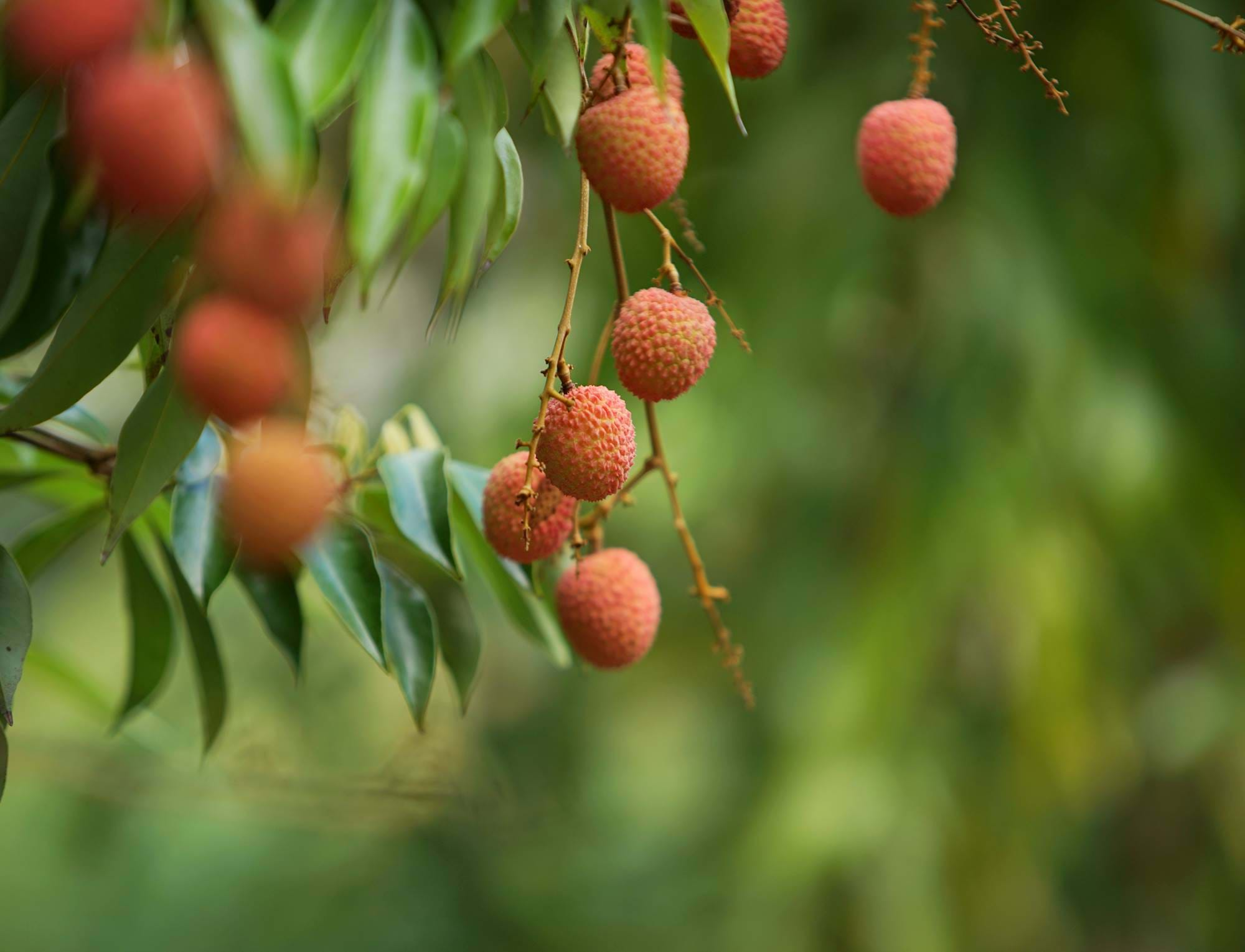 Seasonal Fruits in Mauritius
14th December 2018
The magnificent Indian Ocean destination of Mauritius is as multi-faceted as it is beautiful. A country of awe-inspiring juxtapositions; from a wonderful amalgamation of cultures and religions to dramatic mountains, smooth seas, colourful cities and white, sandy beaches, it's a stunning country, unparalleled in its uniqueness. 
This mirage-like gem, surrounded by hypnotising tropical waters, is famous for its picture-perfect island appeal, the vast array of activities and it's fabulous climate, year-round. It's the ideal holiday destination no matter what type of holiday you are looking for—be it a memorable family trip, a romantic escape or a sensational honeymoon in unrivalled luxury, Mauritius is sure to deliver.
There are ample things that are beautifully unique to Mauritius—many of the endemic birds and plants, for example—and many people are delighted to find that the authentic local food is utterly spectacular. Local dishes often centre on fresh vegetables, fish and fruit, with some of the fruits being the most unusual of their ingredients.
With incredibly fertile land, fruit trees in Mauritius grow in abundance the island over, providing locals with a plethora of exceptional fruit to choose from. The fruit trees—which can virtually be spotted anywhere from villages and forests to open fields and towns—are generally propagated by birds or bats.
Here's a breakdown of some of the exotic seasonal fruits in Mauritius and when they are at their best:
Papaya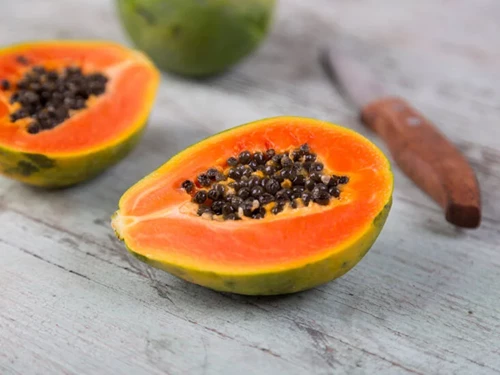 By far some of the most commonly found fruits in Mauritius, papayas have tiny seeds that are easily propagated. The papaya plant is also quite a resilient one, able to thrive despite some often difficult terrains or conditions, such as on cliffs or in hard soil. You can find papayas in Mauritius throughout the year but they are particularly good in the summer season.
Mango
Another common fruit that can be found across the island and at practically any time of the year (but are best from November to January), the mango tree has adapted well to the conditions in Mauritius, despite relying on bigger animals (such as bats, pigs or monkeys) for propagation. There are actually a wealth of different varieties of mangoes in Mauritius, that come in all sorts of shapes, sizes, colours and even flavours.
Longans and litchis
Longans are popular fruits in the same family as litchis, that make for a refreshing bite to eat during hot Mauritian days (much like the litchis themselves). They were introduced to Mauritius and Reunion in the 1700s by the explorer and botanist Jean-François Charpentier of Cossigny de Palma, but they originate in Southeast Asia (said to be native particularly to Vietnam but are also found in China, Indian, Malaysia, Taiwan and Sri Lanka) and the Chinese name, Lung Ngaan, translates to "dragon's eye". This name is said to have been inspired by the colour and shape of the inner seed. These fruits, along with the litchis, were part of an array of imported fruit trees that Cossigny grew in his agricultural estate, along with other species found on his travels.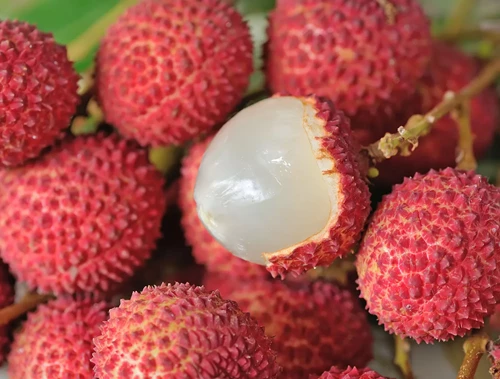 Like the litchis, longans have translucent flesh made up largely of sweet tasting water and have a fragrant smell. They are, however, smaller than litchis and boast a smoother, more yellow-brown skin. The best season for logans is the height of the Mauritian summer, from January to March. You can find this fruit used in juices, use for liqueurs and even honey. Longans and litchis don't share the same season, litchis are best between November and December, so they aren't in competition with each other.
Corossol
This unusual fruit, also known as a custard apple or soursop, is typically found in South American and African forests and comes from the Annona muricata tree. Stemming from the same family as the pawpaw, this unusual fruit is said to taste like a mix of strawberry and pineapple. It's often used in alternative medicinal remedies and you can find these throughout the year.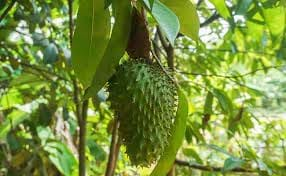 Banane zinzli
What these incredible bananas, also called dwarf bananas, lack in size they make up for in flavour. Best left to ripen on the tree, they are delicious morsels that require a lot of sun, but can actually be grown indoors. They are best eaten in summer where they are sweetest.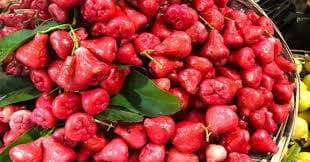 This interesting fruit from Mauritius goes by many names; jamalac in French, zamalac in Creole and love apple in English, among many others. Bell-shaped, it looks most similar to an apple but in reality, it's closer to that of a watermelon. This fruit is often used in light or fried dishes. These are best eaten in December, January and February.
Jamblon
A plum-like fruit that is popular for its use in non-Western medicines and teas, and sadly becoming quite rare, the tart-tasting jamblon is also known as the Java, damson or Portuguese Plum. This fruit tree boasts red berries that turn from green to purple-black as they ripen. It is often served with salt and chilli powder. These can be enjoyed in the summer seasons. 
 
Pineapple
Amazingly sweet when ripe (best from November to January), pineapples can be found everywhere in Mauritius. Seemingly synonymous with the word 'tropical', they are the perfect refreshment for a day at the beach or while browsing local stalls in the markets. You can practically find pineapples in Mauritius from September to January.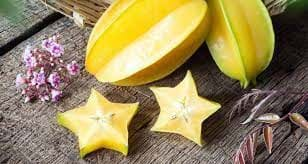 The name of the star fruit was inspired by the gorgeous star-shaped pieces found when this fruit is sliced. Also known as Averrhoa Carambola, it is popular in Mauritius but can be found in other countries such as Indonesia, Sri Lanka and India. They ripen from vivid green to bright yellow and are sweet when ripe. You can generally find these from February to July.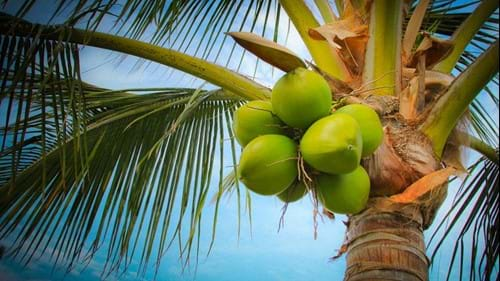 Coconuts are prolific in Mauritius and can be found sold in stalls, hotels, markets, on beaches and in supermarkets throughout the year. These wonderful and highly versatile fruits in Mauritius are used for drinks (alcoholic and non-alcoholic), desserts, snacks and much more. 
Watermelon
Perhaps the ultimate snack for a warm beach day, Mauritius is the perfect place to find succulent and sweet watermelons at their prime in the summer seasons (specifically from November to February). You are sure to see watermelons served up in fruit salads and fruit platters at your hotel or resort in Mauritius.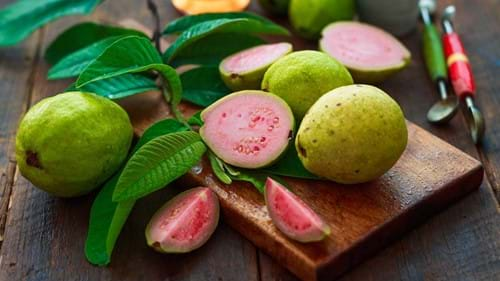 Mauritius has a few different varieties of guava (such as the Chinese Guava or Goyaves de Chine), which along with many of the citrus fruits, can be found in the cooler months. Guavas are especially good in May, where there are a number of different types to try. 
There is a diverse selection of vivid fruits in Mauritius (additional fruits being melons, strawberries, avocados, granadillas, bilimbi, apples and oranges), and one of the best places to find them is in the local market in Port Louis (or any other local market in Mauritius), where you can find fresh fruit cheaper than in the supermarkets. The abundantly fertile lands allow these fruits to grow well in orchards or even in the wild. Most of the fruits here are at their best in the summer seasons, but many can be found throughout the year.