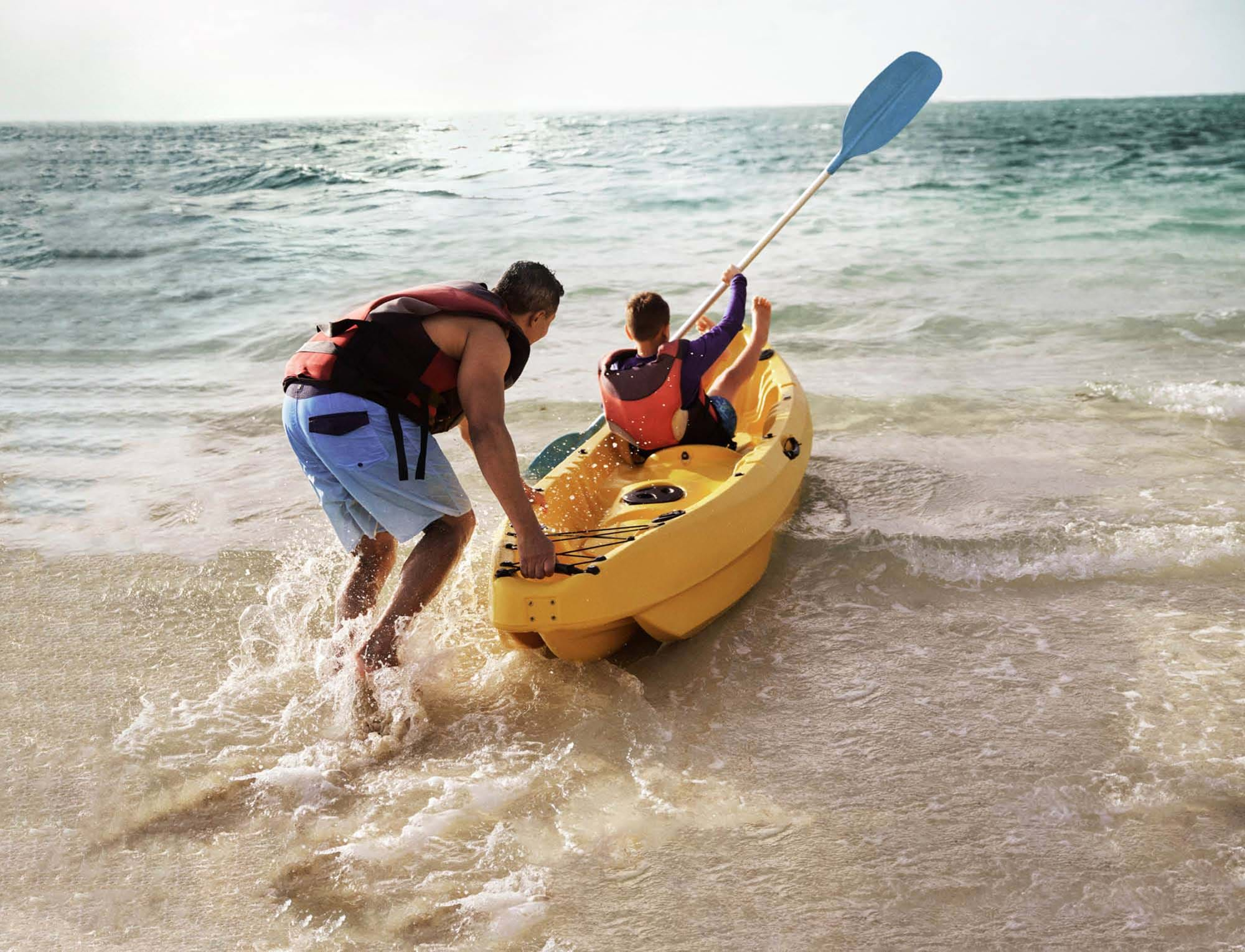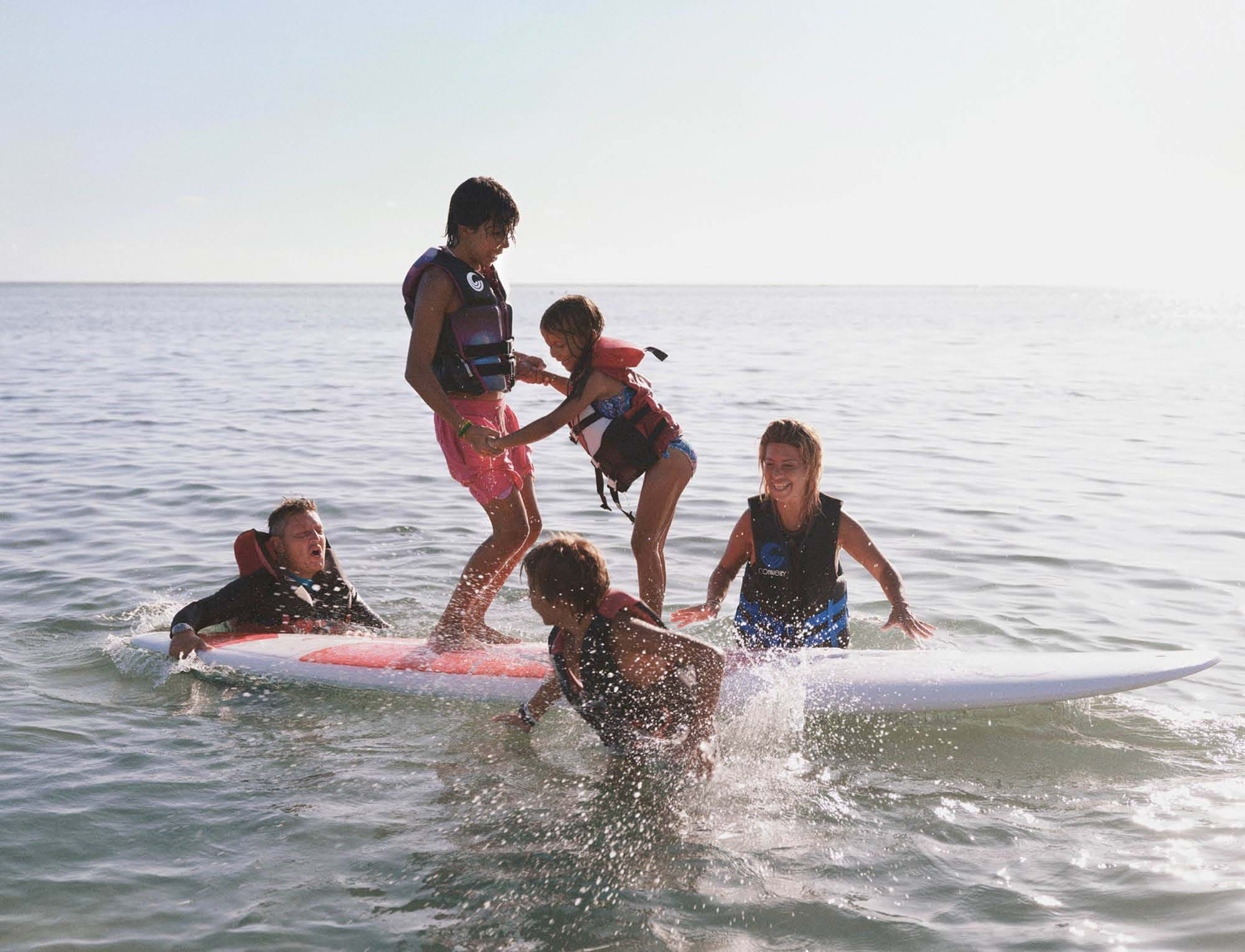 Welcome to our new mobile app
Discover our new Sunlife mobile application, and discover a host of benefits that will help enhance your stay with us.
Simply follow the 3 simple steps....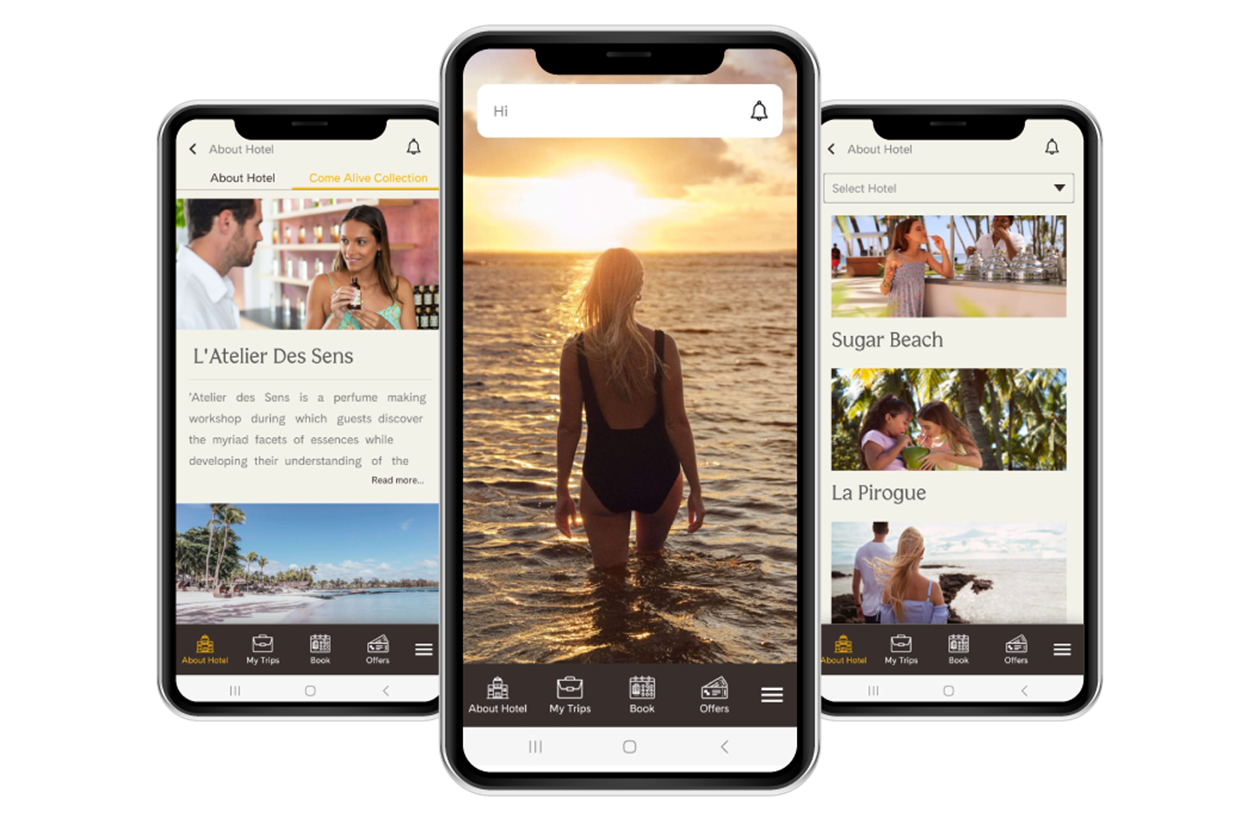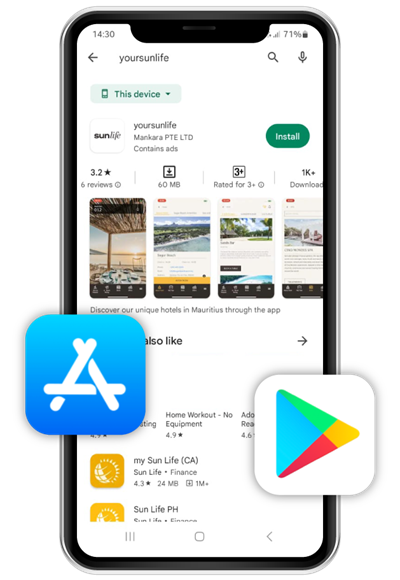 Step 1
Download your app
Click on the download button at the bottom of this page, …..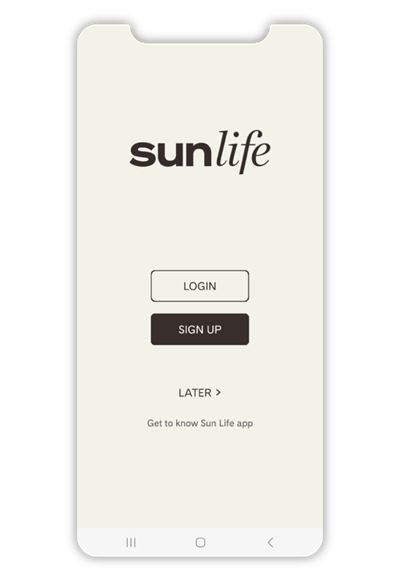 Step 2
Sign Up & Confirm
You can also connect more quickly with your Facebook, google account, or Apple for the iPhones.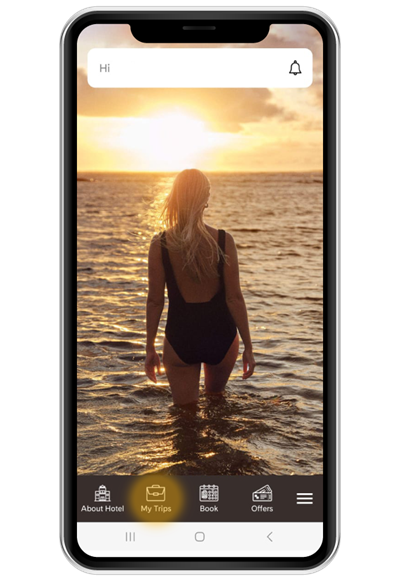 Step 3
Pre-register
To enhance your arrival experience, please pre-check-In. Click on « My Trip » at the bottom, select your resort and click on « Find my Booking ». Then, enter your confirmation number, your name and your arrival date. Click back on « Find my Booking » to plan your stay.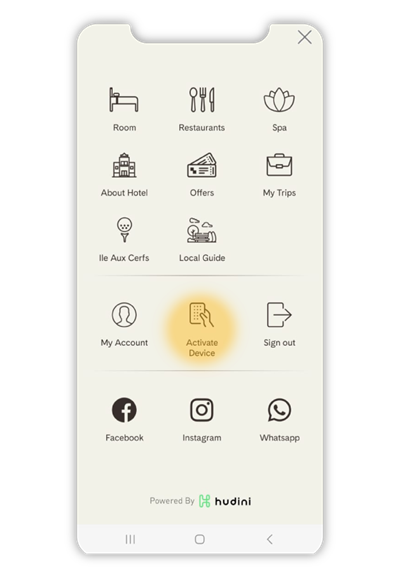 Step 4
Activate your device
As soon as you have officially checked-in at the reception, you need to activate your device and enjoy all the in-stay facilities. From the main menu, click on the « Activate Device » button and simply give your last name, room number and your confirmation number, and click on « Activate »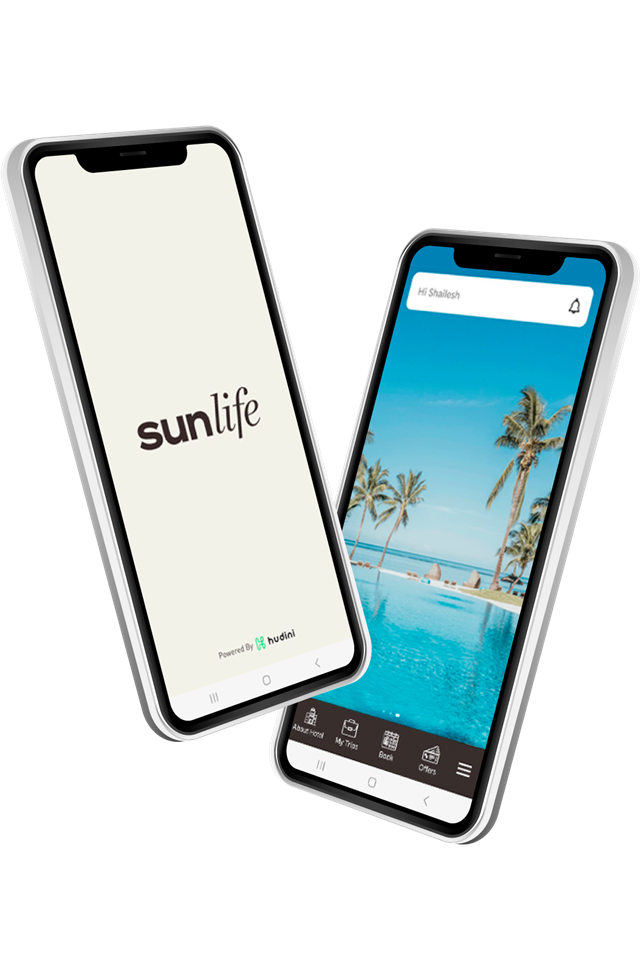 Key features*
Easy booking and pre-registration*
Guests can book a room through the hotel mobile app & can view their upcoming stay details in My Trips. Guests who made an online booking outside the hotel app can fetch their bookings by using their confirmation number onto the hotel app and do a pre-registration beforehand. Guests are presented options including upgrade and other personalisations.
About Hotel*
Guests can see all the useful information about the resort, such as its description, contact details, social media, address, check-in and check-out times and a map of the hotel to make their experience in the resort easier.
Restaurant & Spa reservation*
Guests can view all restaurants, bars and Spa available in the property, check out the food, drinks and treatments menus and book as per their desired date and time, and for the number of persons.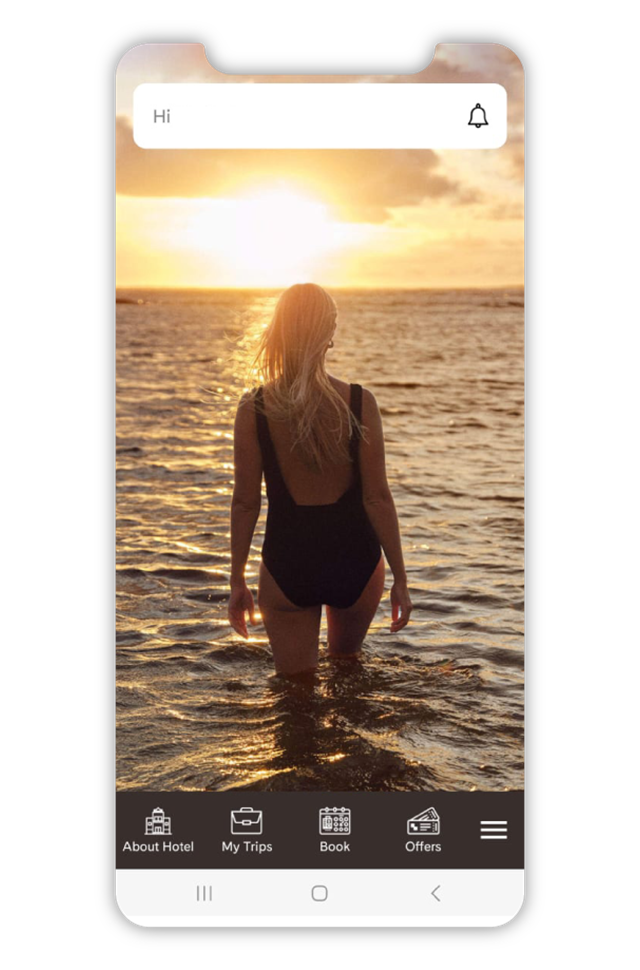 In-room dining**
Guests can view the In-room Dining Menu, select items they want, add them to the Cart, and place an order. Guests can also click on a specific menu item to get more details about the item and customize it according to their preference.
View Bill**
Guests can view their expenses in real time during their stay. All expenses will be instantly updated in this section. Guests will also be able to pay from their phone to speed up the check-out process
Activities & Local guide*
Guest can explore things to do inside or outside the resort. They also have the possibility to contact the concierge and plan their stay.
*Features available pre/in/post stay
* Features only available in stay
FREQUENTLY ASKED QUESTIONS
I cannot download the App?
Check if there is sufficient free space on the mobile device. Also check that your phone software is updated.
I cannot Login?
Use the 'forgot password' feature if password is forgotten. Alternatively Login with social media account.
How do I Login quickly?
Use your Facebook, Google or Apple account on the login page.
How do I add another device?
The new device should go on « Activate Device » to scan the QR code available on the first registered phone in the « Activate Device » section. Or, contact our Guest Service Agent who will gladly help you to activate your device / add another device.
I did not received my verify email when signing Up
Check the junk/spam folder. Alternatively, use your Apple, Facebook or Goole account to login directly.
Download our app
All your bookings made easy
Our new Sunlife app is available to download now. With room, spa and restaurant bookings at your fingertips you'll find everything you need to make the most of your stay. 
Mobile App