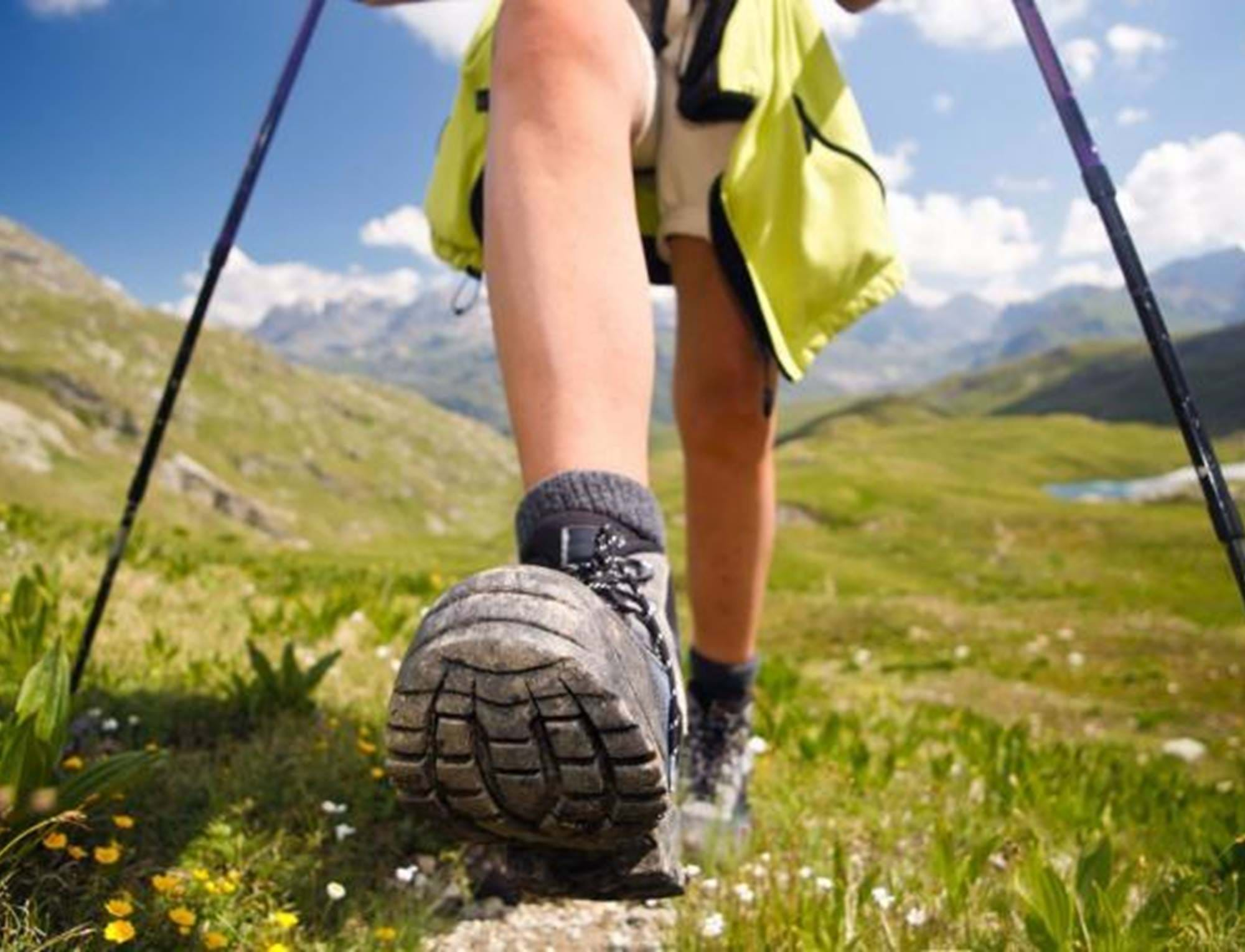 Trekking & Hiking in Mauritius
13th April 2018
Whether you enjoy lazing on the beach sipping a refreshing cocktail, exploring a destination to its fullest or embarking on breathtaking day excursions, Mauritius is a fantastic destination for every type of traveller. Adventurous types can indulge in an array of land- and water-based sports or navigate the gorgeous undulating volcanic terrain while observing the staggeringly beautiful flora and fauna of this island up-close—it's truly a nature enthusiasts paradise. And if you enjoy hiking and trekking, then there is a host of trails to discover in Mauritius (of varying degrees of length and difficulty) that snake through national parks, gorgeous tropical forests and take you to some of the most iconic peaks on the island.
If hiking and trekking in Mauritius sounds like your idea of fun, then here are few places and trails to explore on your holiday on the island:
Black River Gorges National Park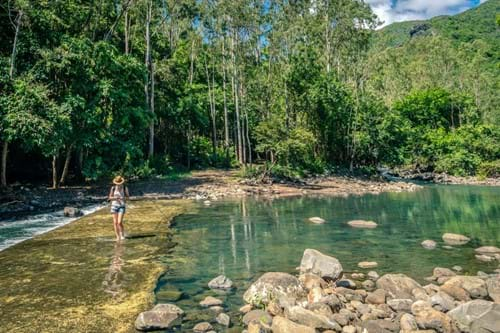 By far one of the most gorgeous places to explore on foot, Black River Gorges National Park is located in the southwest of Mauritius. The park, which spans about 2% of the island, is home to rare, endemic birds, monkeys, an array of other smaller animals and unique flora (making the forest itself one of the rarest in the world). 
For adventurers looking to go trekking and hiking in Mauritius, it's a great place to start. Several hiking paths of varying lengths and difficulties take hikers through the park, many of which allow for stunning vistas. It's highly recommended to go with a guide to ensure that you are taking the best route for your fitness and ability level and to ensure you are experiencing the parts of the forest that you most desire to see. On hot days, opt for a trail that takes you to the phenomenal river in the heart of the park where you can even stop and have a refreshing swim. 
One of the most popular trails in and around Black River Gorges National Park is the Maccabée Forest trail. This stunning 10km hike is perfect for hikers of all abilities and takes approximately 2-3 hours depending on how quickly you walk. The trail, the highest point of which is 652m, starts at Le Pétrin Information Centre and takes hikers all the way to the Black River Visitors Centre, passing the picturesque Macchabée Viewpoint on the way. The viewpoint makes for a stunning stop and for those who like to come prepared, it's an excellent place for a picturesque picnic. Keep your eyes open on this trail as you could spot the rare Mauritian pink pigeon if you are very lucky.
La Nicoliere reserve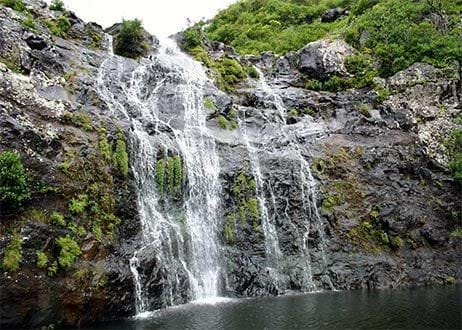 This impressive water reserve located towards the east of the island is surrounded by unusual vegetation, quite different to that found near the coast thanks to the hills that surround the area. Here you can embark on trails of this magical area where you stand a chance to spot wild boars (which can be very dangerous and should be given some distance) as well as monkeys while making the most of the fresh air and absolutely stunning views of the lake. On a good day you might even be able to spot the small islands in the north. Incredible bats can sometimes also be seen in the late afternoon and there are ample viewpoints to enjoy while hiking and trekking in this reserve.
Le Pouce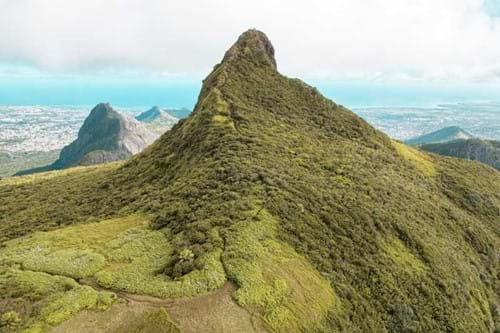 An absolutely sublime trail when hiking and trekking in Mauritius is one that takes you to Le Pouce (or 'the Thumb' due to its appearance), the third highest mountain in Mauritius. This stunning trail oscillates between easy and slightly more difficult parts, so it's good to have a little bit of hiking experience behind you before you tackle this route. 
The route, which covers 4.3km, should take you between 2-3 hours and peaks at approximately 812m. Don't worry, it's definitely well worth the effort once you see the unbelievable 360-degree views which showcase the Moka Range, smaller islands to the north as well as huge expanses of forests and sugarcane fields in the distance. Situated in the northwest, close to Mauritius' capital city Port Louis, the first person who was said to have hiked up Le Pouce was Charles Darwin who documented this very experience.
The Trois Mamelles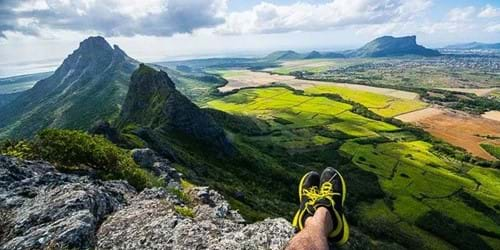 This wondrous collection of three peaks in the west of Mauritius is a fabulous place to go trekking and hiking. The middle peak is the one most commonly tackled, (with a maximum height of 500m). This trail is technically split into two parts. The first half of the trail meanders through bush-like vegetation and the second part of the trail is far more exposed, with steep drops giving that extra surge of adrenaline, specifically towards the top of the mountain. Some experience is needed for this hike which takes approximately 3 hours to complete and again, the panoramic views from the top are certainly well worth the effort.
Piton de la Petite Rivière Noire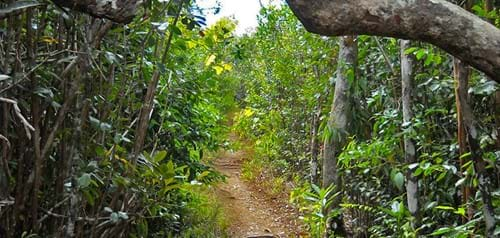 One of the ultimate hikes, Piton de la Petite Rivière Noire allows those looking to go hiking and trekking in Mauritius the opportunity to scale the highest mountain on the island. This hiking trail, which peaks at 828m, is 7km long and usually takes between 3-4 hours to complete, but can be a little difficult at times, so it's definitely for hikers with experience. 
This popular path is well kept and sufficiently signposted but after rainfall, it can become slippery and quite muddy so it's good to take care. The trail starts at the Black River Gorges viewpoint and thankfully, is largely shaded. The most challenging part of the trail happens just before the summit but hikers who persevere are rewarding with outstanding views of the southwestern peninsula, specifically Le Morne Brabant and the surrounding areas.
Le Morne Brabant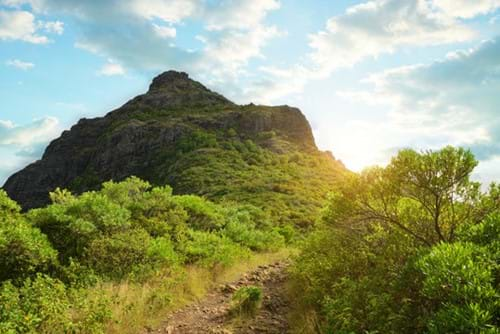 One of the most famous and important natural sites on the island, Le Morne Brabant, located in the southwest, is definitely worth discovering while trekking and hiking in Mauritius. While the mountain itself is not all that high (it peaks at approximately 490m), it provides more challenge than meets the eye. The 7km hike generally takes avid hikers between 3-4 hours with a 'medium' difficulty rating—which means that it's not ideal for beginners. This iconic mountain rises majestically above Le Morne beach (which attracts droves of swimmers, holidaymakers, kitesurfers and surfers from around the world) as well as the 'underwater waterfall', and was once a place of refuge for escaped slaves in Mauritius. While the history of the mountain is somewhat chequered, it now stands as a symbol of freedom a reminder of the heroism and the struggle of the slaves, all of which makes it a particularly special hike. Naturally, it affords hikers some absolutely remarkable views.
Looking to go trekking and hiking in Mauritius? Then check out the exceptional Sunlife resorts. These four magnificent hotels offer guests everything from the ultimate beach experiences and endemic garden trails to sublime accommodation and excellent restaurants, and, of course, make for excellent home bases while in Mauritius. A stay at any of these exceptional resorts is bound to be unforgettable.